We have 3 pairs of active breeding Lovebirds. 2 of our pairs are sex-linked and we are able to sex the babies by mutation.
If you are interested in lineage or genetics of our Lovebird breeders, please ask! *Please note that I can no longer make unrelated pairs from my babies.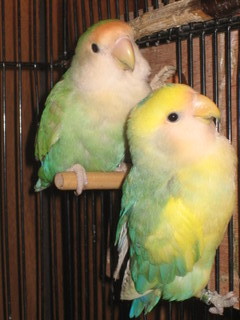 Rowan and Fletcher.
Medium Seagreen American Cinnamon Violet (Rowan)
Medium Dutch Blue Pied (Fletcher)
HATCHED 3 BABIES!